Specialising in all brands of chlorinator repairs, pool pump repairs, spa & tank pump repairs, and pool filter repairs. We are licensed electrical contractors.
24 hour inspection & quote turnaround
OUR SERVICES
Chlorinator Repairs
Aquamech Services repairs all brands of chlorinators repairs – Saltwater Chlorinator Repairs, Pool Chlorinator Repairs, Zodiac Chlorinator Repairs, including but not limited to, the following:
Auto Chlor, Maxichlor, Chlorimatic, Crystal Clear, Compuchlor, Chlorinator Sales, Compupool, Puresilk, Zodiac, Clearwater, Tri, LM2, LM3, Hi-chlor, Saltmate, Seal, Aquajoy, Stroud, Poolrite, Surechlor.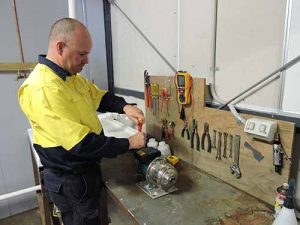 Pump Repairs
Aquamech Services provides quality repair and maintenance services for a wide range of pumps, including: Swimming pool pump repairs, Onga pump repairs, rain water tank pump repairs, Pool Cleaner Repair, Fountain Pump Repairs, Spa pump repair, Pool Pump Maintenance Bore and irrigation pumps ,Water ..
Replacement Cells and Repairs
We keep an extensive range of saltwater replacement chlorinator cells at the best prices. All cells carry a 2 year full warranty. We also do cell repairs, Swimming Pool Light Repairs, Spa heater repair, Pool Cleaner Repairs. Simply bring your cell down to us and we will test it for its output. We can replace terminals, cell caps and cell clips plus more….
WHAT OUR CUSTOMERS SAY
"I received great customer service from Luke. He fixed my chlorinator within 2 days and now it's working perfectly again."
"My pool pump stopped working recently so I called Aquamech Services and Luke came out, removed it, repaired it and reinstalled it for me the next day. It was so easy."