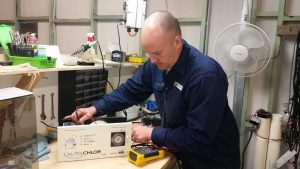 Aquamech Services Brisbane specalise in all brands of chlorinator repairs, spare parts and sales – Saltwater Chlorinator Repairs, Pool Chlorinator Repairs, including but not limited to, the following:
Auto Chlor, Astral Pool VX, Astral Pool Viron V25 & 35, Maxichlor, Chlorimatic, Crystal Clear, Compuchlor, Compupool, Evolution, Puresilk, Zodiac Tri, Clearwater, Zodiac LM2, Zodiac LM3, Saltmate, Seal, ROK, Pool Pro, Hayward, Ozone Swim, Puraflo, Poolrite, Waterco Electrochlor, Waterco Hydrochlor, Surechlor plus many more
We understand your needs and the often costly consequences of not having your pool in full operation, so within 24 hours of receiving your unit we will test, diagnose and call you with a quote.
We will not proceed with any repair work until you have approved the quote.
A standard quote fee of $39 applies. This fee comes off the cost of the repair if you choose to go ahead.
For an accurate diagnosis, we need the control power pack AND the cell (not the cell housing). Without these two items, an accurate diagnosis is not always possible.
The quickest turnaround and most affordable option if you live in or near Brisbane, is to drop your unit off at our workshop at 4 Flower Street, Woolloongabba, QLD 4102.
We also provide mobile repair services. This can be helpful if you are not able to safely remove your chlorinator because it is hard wired or you would prefer us to remove it. Our travel fee to go to your property ranges from $55 to $88 depending on your location, in addition to the $39 inspection and quote fee and cost of repairs.
If you live elsewhere in Australia, you can post your unit to us at the above address.
For standard road freight Australia Post will usually charge between $8-$20
Back   Pump Repairs  Pool Filter Repairs  Chlorinator Cells Repairs  Robotic Pool Cleaner Repairs