Brisbane's Aquamech Services Pty Ltd specialise in AstralPool Viron, AstralPool VX and E Series chlorinator repairs, spare parts and sales. Our licensed electricians can repair your astral pool chlorinator for a fraction of the price of buying new. With an AstralPool Viron Chlorinator, you can improve the overall water flow and functioning of your pool all season long.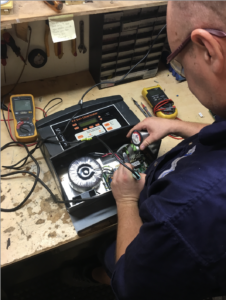 Are you having problems with your AstralPool Viron, VX, or E Series chlorinator?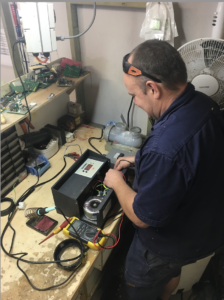 Is your VX, Viron or E Series AstralPool Chlorinator…
Coming up with a no-flow light or fault?
No power at all?
Low salt light on?
Display reading low salt?
Does the timer reset every time the power is turned off?
Is it not maintaining enough chlorine for your pool?
Is the display faded or not reading correctly? Are the display functions not working?
Pump not starting?
All these issues are common and can be repaired. Thankfully, our Astral VX Salt Chlorinator experts are here to give you the insight you need to get your system working properly in no time. Here's what you need to look for to help determine if your salt chlorinator is producing the right chlorine levels:
Does Your Pool Maintain Proper Chlorine Levels?
First, you'll need to check the chlorine and salt level in your water. These testing procedures are quick and easy, and you can find chlorine test strips online or at any pool supply store. Once you've had your water tested, our team can advise you on the next steps for your salt water astral pool chlorinator unit. Whether you need to replace or repair your unit, we have a solution for you.
We keep all spare parts in stock to ensure repairs are completed quickly. All repairs come with 12 month's warranty for both parts and labour. The generic Australian Made salt cells we sell come with 2 year warranty and are made from quality Titanium material. These salt cells will outlast the genuine AstralPool cells every time.
Common causes of low water flow for salt water pools:
There are a few different reasons why the water in your pool might not flow or work properly. When your system has good water flow, the flow sensor should show a green light. If not, that could mean the system isn't able to produce chlorine efficiently or maintain the proper salt levels for your water. In this case, there are a few steps you can take to get your system running smoothly again.
Clean The Cartridge Filter
If your cartridge filter hasn't been cleaned recently, it could cause an issue for the salt cell and trigger the low or no flow light. You can follow the cleaning instructions in your manual or have a member of our experienced team clean the cartridge filter for you.
Check For Debris
Having debris in your pool system will impact water flow. Be sure to regularly check the pump basket, skimmer baskets, and other filters that may be clogged so that you can restore your salt level and water flow with a quick fix.
Monitor The Flow Switch
In some cases, the issue might not be in the cell of your salt water chlorinator, but in the flow switch itself. If you think your flow switch might have gone bad, our team can help you replace the flow sensor quickly. Being able to monitor your salt cell and water levels is important for keeping your pool at maximum efficiency and our in-house services are here to make sure you never have to worry about finding the parts you need.
Look For Air Bubbles
When air disrupts your filters, it makes it difficult for your salt cell to perform at capacity. That's because each cell turns the salt into free chlorine, so any air present in the cell will dilute these results. To fix this, contact our team of pump experts to determine the best way to clear excess air from your pump.
AstralPool Viron Chlorinators
AstralPool's Viron Salt Chlorinator brings a new benchmark in efficiency, control, convenience and above all, reliability. Essentially, this is Astral Pool's new generation salt water chlorinator. With an easy to use touch pad, intelligent self-cleaning of the salt cell, pool or spa sanitiser dosing control and also a backwash timer for your filter, you can't go pass the Viron Salt Chlorinator to make your pool a healthy and enjoyable place to feel refreshed in the water.
Click here for: AstralPool Viron Instruction Manual pdf
AstralPool VX Chlorinators
Luke has an extensive 7+ years' experience in repairing astral pool chlorinators and as a result, confidently recommends the AstralPool VX Salt chlorinator range as being a reliable and worthwhile investment. These units have been manufactured in Australia for over 20 years and haven't changed in that time, because they simply do the job well and provide reliable service.
Click here for: AstralPool VX Chlorinator Instruction Manual
AstralPool E Series Chlorinators
The E Series chlorinator is an affordable self cleaning astral pool chlorinator that's simple to use, easy to install and reliable. It uses the same main PCB as the VX range of salt water astral pool chlorinators, yet is significantly more affordable. If you have an E Series unit, we can upgrade it for you at an affordable price, saving you hundreds on having to buy a new one.
For more information or to book a service call us on 07 3067 7956 or make an enquiry online at: http://aquamechservices.com.au/contact-us/
We are also specialized to repair these astral pool chlorinator problems: VX Chlorinator low salt light, VX Chlorinator No Flow error light, Viron chlorinator display hard to read, VX Chlorinator won't start pump, astral pool chlorinator no flow, Hurlcon VX Chlorinator no flow error, Viron chlorinator No Flow. No matter what your astral pool chlorinator needs look like, we have you covered.