cell repairs
Replacement Cell Repairs
We understand your needs and the costly consequences of not having your pool in full operation,so within 24 hours of receiving your cell we will test, diagnose and call you with a quote. We will not proceed with any repair work until you have approved the quote.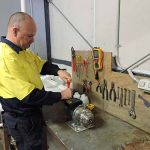 The quickest turnaround and most affordable option if you live in or near Brisbane, is to drop your cell off at our workshop at 4 Flower Street, Woolloongabba, QLD 4102.
We also provide a mobile collection and delivery service. This can be helpful if you are not able to safely remove your chlorinator because it is hard wired or you would prefer us to remove it. The cost of removing and replacing your unit is $33 each way.
If you live elsewhere in Australia, you can post your cell to us at the above address.
For standard road freight Australia Post will usually charge between $8-$20
tag: cell repairs